SHOSHA BOTTOMS
Bio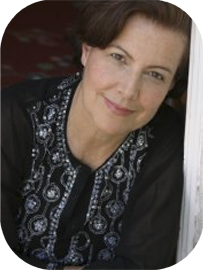 Born and raised in San Francisco, Shosha Bottoms was an avid gymnast in her childhood. She grew up close to the ocean and always felt the importance of being in touch with its natural rhythm, which is very similar to the rhythmic balanced interchange of the breath, the heart beat and, at our deepest core, the rhythm of one's existence.

While studying at Lowell high school, her favorite subjects were Asian Literature, Film, Israeli Dancing and Yoga. During her university years, she travelled abroad to work and study in Israel which broadened her world perspective. The sea and the Sinai Mountains inspired "the true feeling of being alive" within her. She returned to the United States and studied Mythology at the college of Marin, followed immediately by travel to the Philippines to work on Francis Ford Coppola's "Apocalypse Now," an experience which profoundly affected her global view of humanity. Working on this film, which in her view was the privilege of a lifetime, presented her with fascinating, unexpected challenges, each of which helped to mold her as a young human "being."

During this profound life experience, deep in the rain-drenched jungle, Shosha met a young yogi who presented her with a copy of BKS Iyengar's book "Light on Yoga." She immediately began her Yoga self practice with one of the world's most eminent Master Practitioner Teachers. She is profoundly reverent to those early roots for she now knows that one moves into the forest to seek to know the power within the self. To this day, she continues to study with some of the highest level Iyengar teachers in the world.

Upon completion of the film, Shosha married and started a family in Pacific Grove, living by the ocean once again. While carrying her first daughter, she was reminded of the deep beauty of feeling alive and the exquisite privilege of growing life in the womb. Two years later the family relocated to Los Angeles, CA where she established her home and continued her self practice.
Her second daughter was born two years later. It was then that Shosha had a revelation: caring for young life gave her the responsibility to raise her children within the Yogic philosophy. She decided to become a Yoga Teacher. She is intensely grateful that her daughters have continued the Yogic tradition with daily practice and devotion to meditation.

Shosha received her Teaching Certification at the Yoga Vedanta Forest Academy, the international Sivananda Yoga Centers in Quebec, Canada. For the next 18 years she taught at Angel City Yoga in Studio City, CA where the following for her group classes thrived. Her specialities are Pre- and Post-Natal Yoga and Restorative Yoga, an all-levels classical Hatha group class. Her daughter, Io, joined her in teaching at Angel City Yoga.

Shosha, having a long established private clientele, now teaches exclusively from her home studio; daughter Io has joined her as a partner. To address some clients' special needs and conditions, she uses a variety of props. Shosha creates these props and offers them for sale in ShoshaYoga.com's online Boutique.

Shosha practices and teaches yoga because she believes in the experience of "Being Alive." One must master the voyage into the inner life; yoga is the way. She is devoted to her daily personal practice, firmly believing that it is as essential as food, air and water.

Namaste.